DOW
Craft in the spotlight
CLIENT
Workshop project
Tasmeem Lab
Dow encourages us to think about the absurdity of trying to use industrialization processes for an art that has been traditionally passed down from generation-to-generation. It offers a different perspective, where modern design enhances the beauty of craftsmanship and manual workmanship.
Dow is an artfully crafted wooden structure, showcasing the unique and organic beauty of Sabra necklaces. Hand-weaved together in a poetic arrangement, it captivates viewers with its intricate details – epitomizing true craftsmanship at its finest.
Industrialization has revolutionized economies around the globe, yet craft-based sectors in countries like Morocco have remained essential and continue to contribute significantly. The Dow suspension was created as a way of preserving this heritage – from traditional medinas, bazaars and souks to vibrant artisanal activity – for future generations.
⟶ 52 x l. 52 x H. 75,5 cm ou L. 26 x l. 26 x H. 38 cm
Laser-cut lacquered wooden structure.
Handcrafted necklaces in sabra.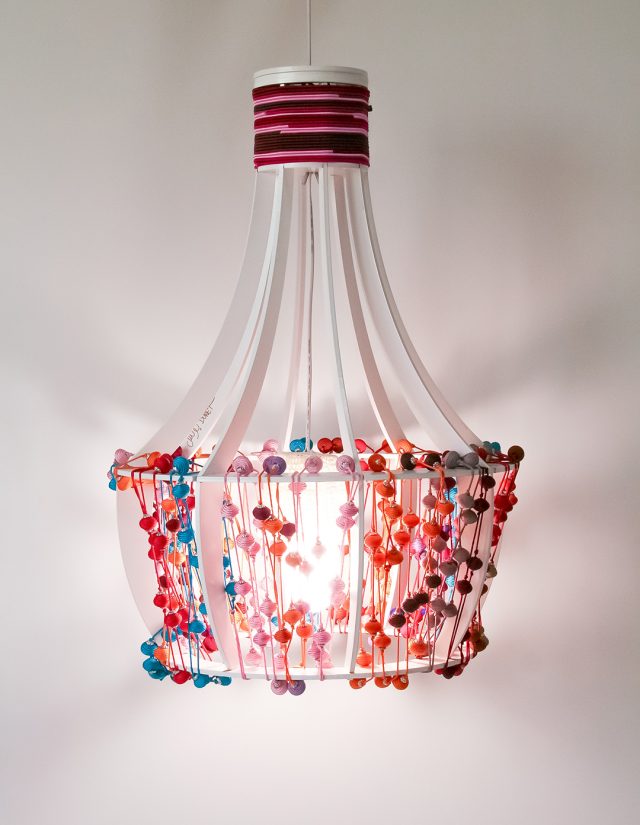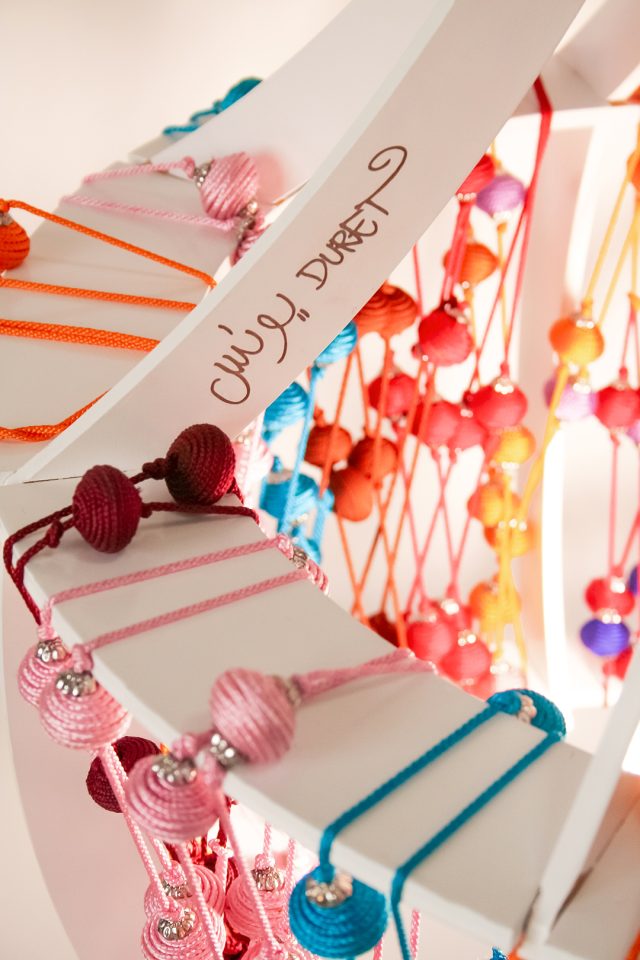 Younes Duret
« Dow est littéralement un support pour l'artisanat marocain. Cet artisanat, je ne cherche pas à le changer, je cherche à le mettre en scène et le magnifier. »
During the Tasmeem Lab workshop in March 2011, designer Younes Duret was able to experiment and try different creative approaches. He used hundreds of vibrant sabra necklaces made by artisans and suspended on laser-cut MDF frames. This collaborative event provided a unique opportunity for creative exploration!
Thus, for Younes Duret, Dow is more than an object: it is the symbol of the beginning of his approach to the "induCraft".
WORK DONE / TOOLS USED
Product Design.
Strategic research.
Form and function development.
Use of laser cutting.
Colour, material and finishing.
DESIGN ADDED VALUE
Developing new products.
Enhance and modernise traditional crafts.
Produce in an eco-responsible way.
Stand out.
Provide the user with a rich and entertaining experience.