Le Petit Mouloud
Curiosity to go beyond the obvious
Clichés often offer an easy shortcut to understanding complex ideas, though their oversimplified approach can sometimes lead to inaccurate conclusions. Even so, underlying all clichés lies a kernel of truth that is worth paying attention to. Initial preconceptions can be a valuable tool when looking to explore something further. With this simple yet powerful approach, it is possible to uncover depths of complexity that may have otherwise gone unnoticed.
Embracing his dual heritage, the author deconstructs a Western perception of 'Souk' markets as chaotic and cacophonous places. Instead, he reveals a vibrant atmosphere rich with cultural significance. By shifting perspectives, the Souk is viewed as an entirely unique economic entity with distinct rules and dynamics that shape how it operates, from product conception to sale.
Through the vibrant perspective of a young mind, the Souk is re-envisioned as an ordered chaos — embracing disorderliness with its own unique form of organization.
Novel written by Younes Duret in 2005 as part of his graduation project. This book laid the foundation for his creative thinking and design approach.
⟶ Le Petit Mouloud, la curiosité pour déserter les évidences, preface by Khalid Jamaï, 90 pages, also available in eBook (PDF format).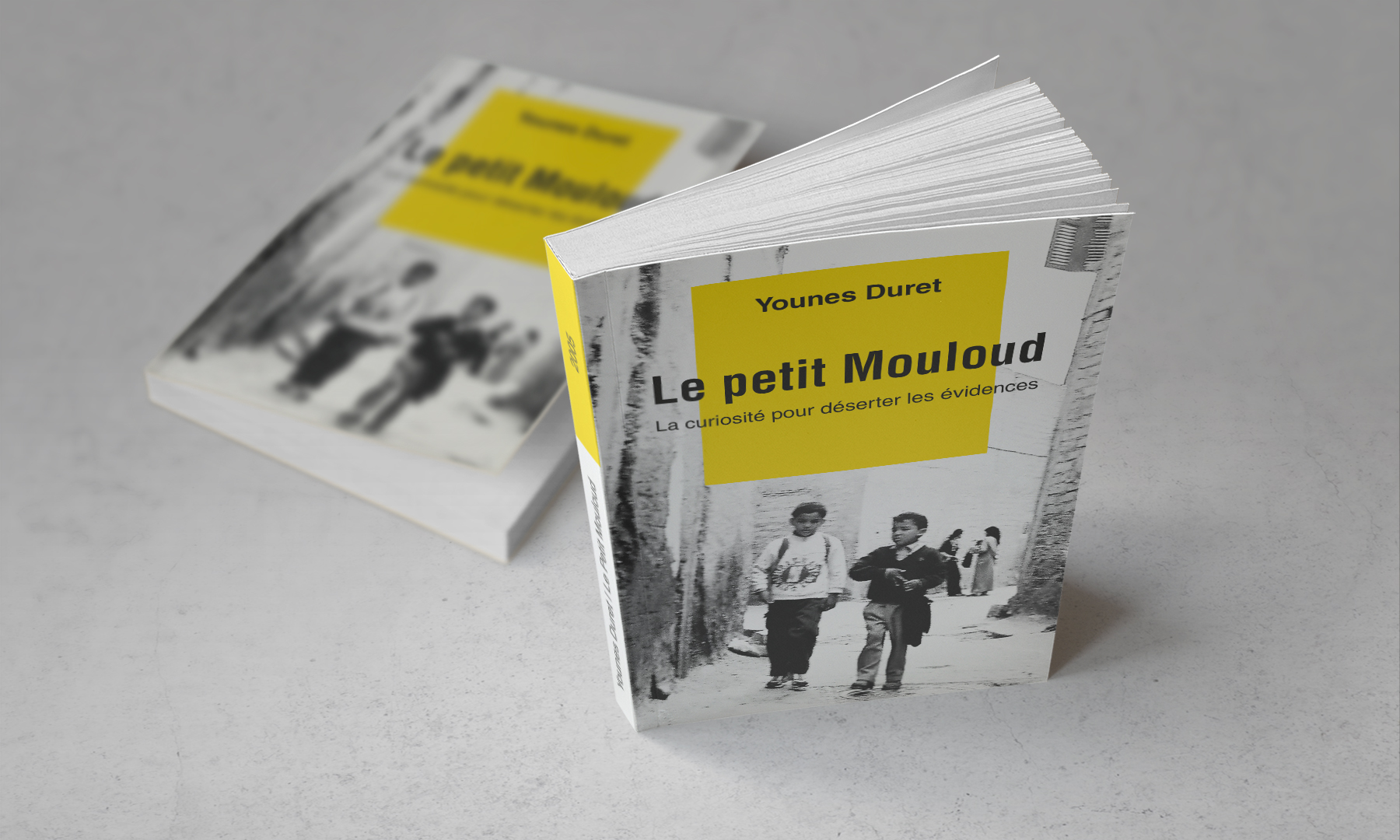 Khalid Jamaï – Journaliste, écrivain
« Conte philosophique ?
Conte initiatique ?
Lettre persane ?
Enigme sortie de l'imagination d'une Agatha Christie ?
On se perd en conjoncture.
Mais pourquoi chercher une filiation à tout prix ?
Peut être pour se prévaloir d'une légitimité.
L'écrit surprend, dérange. Une chose est pourtant certaine : les mots deviennent autant de labyrinthes, tissent une toile qui vous enserre, vous empêche de sauter à la dernière page pour connaître le fin mot de l'histoire.
Vous vous retrouvez malgré vous condamné à décrypter un monde que vous avez cru connaître. Et vous découvrez que vous n'étiez qu'un aveugle même si vos yeux étaient grand ouverts.
REGARDER N'EST PAS VOIR !
Voir c'est aller au delà du visible. La réalité est souvent trompeuse. La vraie réalité, par contre, éblouit car elle déchire les différents voiles, vous condamne à une remise en question de vos sens, de vos certitudes.
Un écrit qui vous fait découvrir aussi que le choc des cultures peut être source d'enrichissement si on accepte de voir par le regard de l'autre. La majorité d'entre nous sont pétris de certitudes, lesquelles, bien entendu, nous figent dans une zone de confort. En vérité une prison où l'on développe le rejet de l'autre, l'intolérance et la certitude que l'on possède la vérité.
On oublie juste que toute vérité est, par essence, relative.
A travers cet écrit aussi, l'auteur nous fait retomber en enfance pour retrouver curiosité, émerveillement, pour déserter les évidences que nous nous sommes imposées
au fil des années. Evidences, la plupart du temps, fausses, voire dangereuses.
Un conte qui se meut soudain en analyse économique qui nous fait dévoiler la structure profonde d'un souk où la créativité est en permanence sollicitée et où l'objet est
en perpétuel devenir.
Incroyable, mais vrai aussi, dans le souk le temps cesse d'exister pour céder la place au relationnel. Un concept mu en un paramètre économique. Preuve d'un esprit original
qui sort des sentiers battus et qui arrive, un tour de force, à transformer un mémoire de fin d'année en conte merveilleux où l'humour le dispute à l'ironie, au suspense.
Les derniers mots annoncent, pour le lecteur, une nouvelle naissance.
Un MOULOUD.»
Le Petit Mouloud is an intricate synthesis of Younes Duret's creative insight which draws inspiration from daily observations to craft new interpretations of the world around us. This innovative project seeks to promote communication, tolerance and understanding between East and West.
WORK DONE
TOOLS USED
Strategic research.
Rhino & 3DS Max.
Industrial design.
Engineering.
Colour, material and finishing.
DESIGN ADDED VALUE
Enhancing a place.
Differentiating.
Provide the user with a rich and entertaining experience.
View this post on Instagram