Sergio Rossi Store
Geometry as a jewel shelfs for shoes
Younes Duret totally conceived the 22 sq meters corner shop of Casablanca for the luxurious italian shoemaker. It is a sculptural tribute to modern design and tradition as it is respectfully inspired by traditional moroccan ornamentation – the Art of zellige – (moroccan tiles) in order to combine in 3D the elements of Sergio Rossi's vision: authentic design, exclusive colors, and craftsmanship.
Sergio Rossi's Italian team was left in awe of the immense skill and finesse exhibited by a small team of Moroccan craftspeople. In just forty days, these master artisans made and installed an exquisite work of sculpture – upholding centuries-old traditions with impressive speed and dexterity.
⟶ Melamine display unit with 1850 hand-assembled pieces.
Mark V. – Architectism
« The store also took into consideration the Moroccan design which is flamboyant and richly ornamented thus blending the oriental and ancient with the modern into a complex structure of patterns that attracts attention and appears as an encasing of the shoes it hosts. »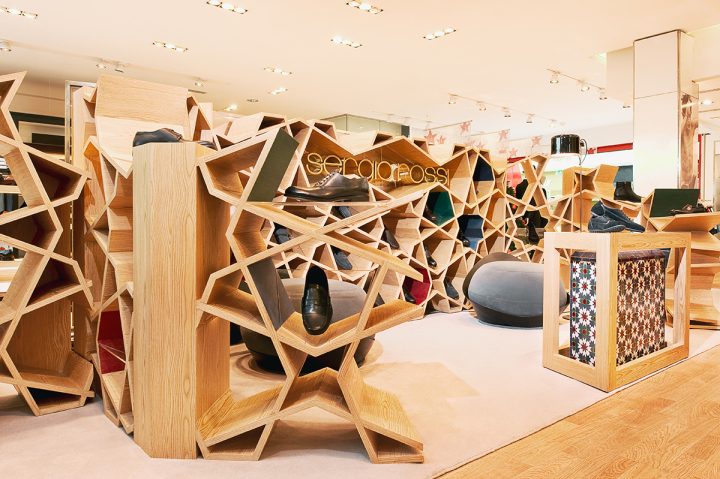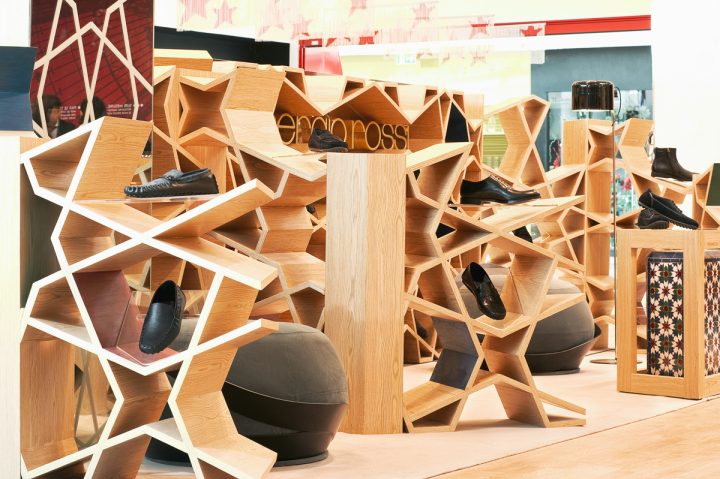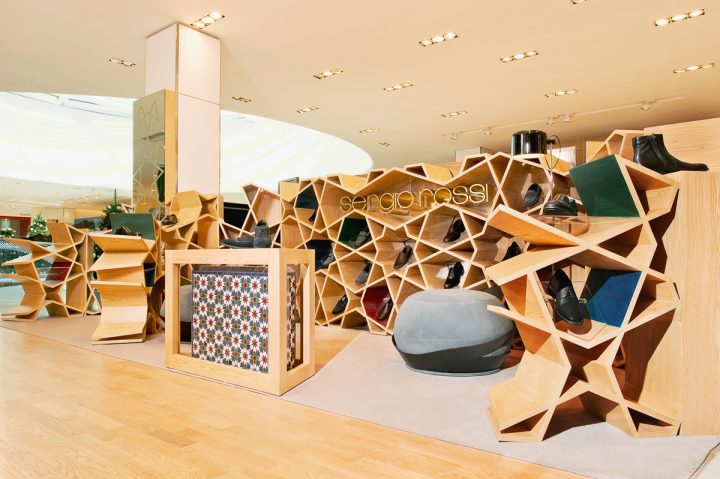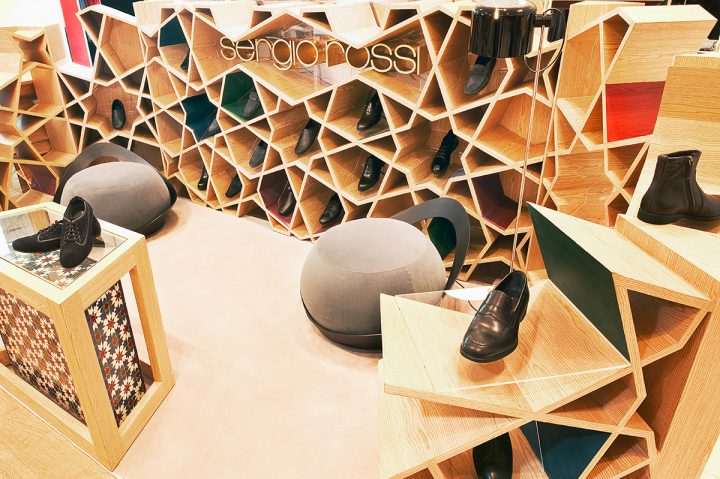 With the opening of new Sergio Rossi stores for men all around the world, in a joint venture with Wallpaper* magazine, creating a new environment, a new language of style and local cultural heritage, the ultimate taste of travel experience. It is also a way to get prominent interior designers from each country known to the general public through the boutiques of the italian brand.
WORK DONE / TOOLS USED
Form and function development.
Interior design.
Retail Design.
Manufacturing and installation.
Colour, material and finishing.
Sourcing and testing of components.
DESIGN ADDED VALUE
Design of a commercial store.
Produce in an eco-responsible way.
Promote Moroccan craftsmanship and know-how.
To attract renewed attention from visitors.
To offer the visitor a rich and entertaining experience.
Stand out.